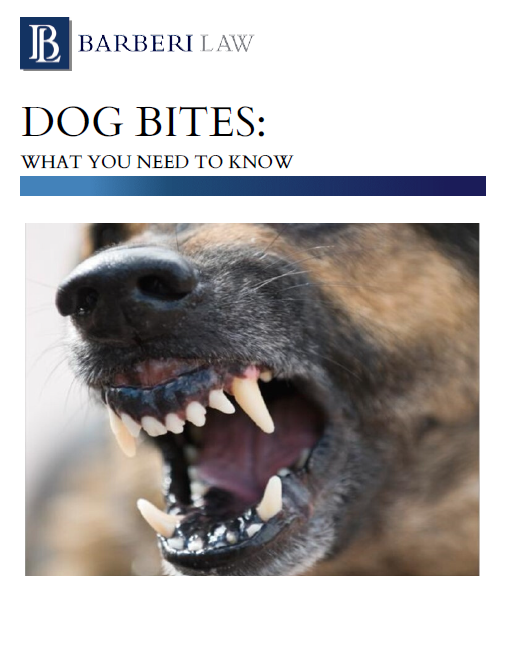 Have you or someone you love been bitten by a canine recently? Do you know the correct steps to take after the incident? We are here to help you.
Our first priority is getting you or your loved one the results you deserve. A dog bite can be an emotional ordeal. Download our brochure to get the information you need and find out what steps you should take.
Crucial Steps to Take
The majority of dog bite injuries require medical attention to close a wound. Scars are an important part of dog bite claims, as they are considered "damages." You need to make sure you properly document your injuries to receive the compensation you deserve.
Here is what to keep in mind, if you ever get attacked by a dog:
1. Seek immediate medical treatment.
2. Get photos of injury before (if possible) and immediately after treatment (i.e. at the doctor's office).
3. Identify the dog and the owner of the dog.
4. Contact the county/city animal control office to determine if there have been previous complaints of the same dog being vicious and/or biting someone else.
5. Contact an attorney who specializes in handling personal injury/dog bite cases.
6. Find the RIGHT lawyer in your area.
Fighting for Your Rights
A dog-related injury is not limited to biting. Clawing, jumping, or lurching at humans can cause problems, as well. Download our Dog Bites brochure to learn how to protect yourself and your loved ones. Barberi Law will fight for a full and fair settlement for you, and is always ready to take your case to court, if necessary.
Fill Out the Form Below to Request Our Free Offer