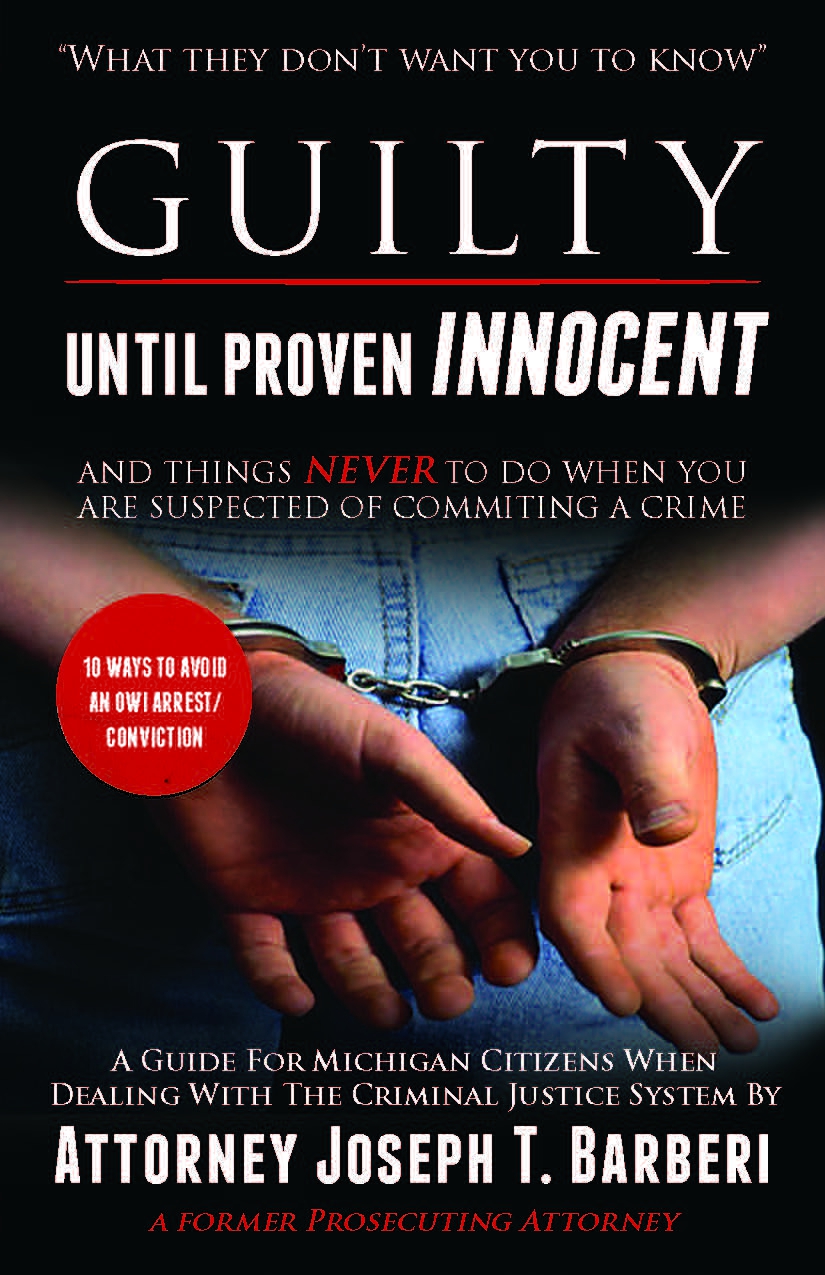 It's a fact that the more you know about your rights, the better able you are to protect them. We offer this book—free to anyone who asks—so that you can educate yourself about your rights when you are accused of a crime in Michigan. As a former prosecutor and current criminal defense attorney, Joe Barberi has seen both sides of the law and is committed to making sure that the average citizen is not taken advantage of by the legal justice system. But our advice can't help you if you don't know what it is! Request this free book today and learn what to do if you or a family member is ever arrested.
What You Will Learn
Our book starts with the basics, explaining the roles of the police, prosecutors, defense attorneys, and judges. It then walks you through the investigation that follows a crime, including:
Police interviews
Collection of evidence
Analysis of the crime scene
Your Miranda Rights
Agreeing to searches
Giving DNA samples
Taking a polygraph
Our experienced criminal defense attorneys tell you what you should do and not do at each phase of an investigation, and why you should not go through it without an attorney by your side.
Avoiding a DUI
The criminal charge most often faced by the average citizen is driving under the influence of alcohol. Known in Michigan as OWI (Operating While under the Influence), being stopped on suspicion of drunk driving is scary. After all, the consequences can be significant, from hefty fines, to losing your license, to going to jail. In our book, we explain how an OWI traffic stop works, what a field sobriety test is and whether you should agree to one, and even offer 10 ways to avoid being arrested for OWI.
What Else?
At Barberi Law, we take more than just OWI cases. The remaining chapters in our book give you a good idea of the other kinds of criminal defense services we offer:
How Experts Proved Our Clients' Innocence
Common Criminal Charges
The Judicial Process
Collateral Effects of Criminal Convictions
Expunging Convictions
When You Are Charged With or Suspected of Committing a Crime
Don't think these topics will ever apply to you? Think again. You never know when you could be falsely accused or when a family member—such as a teenaged or college-aged child could make a dumb mistake. Reading our book will ensure that you are prepared for whatever may happen. Request your free copy today!